25% off Handwarmers at

Survival Frog
End date will now be Friday, February 26th
Get 25% off Handwarmers use Coupon Code:
JAMES25
​Food collection page:
The #1 seller in 2020 has been long-term food storage. Survival Frog has the largest selection of any other website.

Self-Defense Kit
With unrest in the streets only expected to get worse with the upcoming elections, we have seen strong demand for this kit.
The "Zombinator" hatchet:
Fighting of the next zombie apocalypse, or cutting some firewood for your campfire, the Zombinator is a must-have tool. With over 10 different functions, this multi-tool is the one you want to carry with you. Plus, it looks really cool!
I saw it on Survival Frog LLC



Zombinatorâ"¢ Survival Hatchet - Multi Tool Axe By Frog & Co By Frog & Co. — $59.97

Features: Sheath: The strong and durable nylon sheath protects the blade as its stored. Paratinder Cord: Inside the cord, you'll find flammable paratinder to start fires. Full Tang Hatchet Blade: Chop through pretty much anything (including zombies) with

I saw it on Survival Frog LLC



Lifeshield® - Self Defense Kit With Stun Gun, Pepper Spray, Personal Alarm & Carrying Case By Frog & Co By Frog & Co. — $69.97

*Ships only in USA* Features: Great for those who are not comfortable with guns Safe for users (but really bad for an attacker) Non-lethal injury to keep you out of jail Temporary disable attacker, gives you time to get away Compact to keep in purse or ba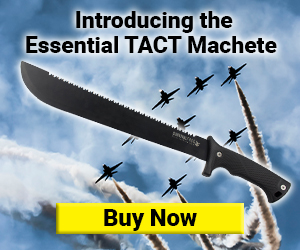 About​
Survival Frog, LLC believes it is your personal responsibility to prepare for any emergency and be able to not just survive, but thrive through that time. Our mission is to provide you with the most essential survival gear while maintaining affordability that you won't find anywhere else.
Survival Frog, LLC is the premier site to buy all the essential items you need to bring your loved ones through any emergency situation, regardless of the severity. We won't talk about Armageddon or the end of the world here, but we will encourage you to be diligent and wise by preparing to the fullest extent possible.
The items you will find at Survival Frog, LLC allow you to eat wholesome food, drink pure water, breathe clean air, guard against disease, resolve injury and illness or assemble temporary shelter. These are all requirements to not only live, but to thrive in emergency situations.

This website uses marketing and tracking technologies. Opting out of this will opt you out of all cookies, except for those needed to run the website. Note that some products may not work as well without tracking cookies.
Opt Out of Cookies